Stocksbridge & Upper Don ward is in the north-west of Sheffield and contains Stocksbridge, Deepcar, Wharncliffe Side, Oughtibridge, Bolsterstone, Midhopestones, and Ewden. Stocksbridge also has a Town Council – you can learn about them here.
In Stocksbridge & Upper Don local Liberal Democrats have been fighting to:
Save Stocksbridge Leisure Centre from closure.
Protect Stocksbridge Library.
Deliver better broadband for rural areas across Stocksbridge & Upper Don.
Oppose reductions in opening hours at Deepcar recycling centre.
Block plans to concrete over green land in Oughtibridge.
You can learn more about what local Lib Dems are doing Stocksbridge by clicking here.
Local Councillors
Stocksbridge & Upper Don has one Lib Dem city councillor. Learn more about her below:
Name: Cllr Alison Brelsford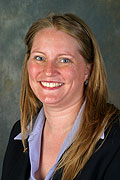 Years as councillor: 16                     Term Ends: May 2014
Bio: Alison lives in Stocksbridge with her husband and young family, who attend local schools. She has been a city councillor for 16 years, as well as Stocksbridge Town Councillor for 10 years. Alison has worked as an administrator, bookkeeper and financial analyst since graduating in 1994. As a councillor she has fought to make sure Council services are as accessible in our area and that Stocksbridge get a fair deal. As a local councillor, she has helped to ensure that Stocksbridge and the Upper Don got help in heavy snow, campaigned to get the A6102 reopened quickly after the landslip, secured Hollin Busk as green belt land, and attained funding for children's play areas in Wharncliffe Side, Deepcar and Stocksbridge. Locally she is also involved with Stocksbridge Community Forum, Friends of Don Field, Oughtibridge Woods Access Campaign, the Steel Valley Project, and Oughtibridge Village Community Association.
Tel: 0114 288 4033               E-mail: alison.brelsford@sheffield.gov.uk 
Surgeries: 1st Saturday in month from 9.30 – 11.00 a.m. at Stocksbridge Library, Manchester Road. You can also contact Alison on the above telephone number or email address to arrange a home visit.