Nether Edge ward is in the south-west of Sheffield and contains Nether Edge, Brincliffe, Carterknowle, and Sharrow Vale as well as parts of Sharrow.
In Nether Edge local Liberal Democrats have been fighting to:
Defend Ecclesall Library and Highfield Library from closure.
Retain the important No.4 bus service on Psalter Lane.
Protect green land at the former Abbeydale Grange School.
Block excessive hikes in parking permit fees.
You can learn more about what local Lib Dems are doing Nether Edge by clicking here.
Local Councillors
Nether Edge has one Lib Dem councillor. Learn more about him below:
Name: Cllr Anders Hanson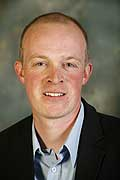 Years as councillor: 3                     Term Ends: May 2014
Bio: Anders Hanson was elected as a councillor for Nether Edge in 2010. Anders grew up in Sheffield and was previously a councillor in Derbyshire. Since being elected Anders has taken a leading role in supporting residents on many issues such as potholes, lamp posts, street cleaning and planning applications. Anders has also worked through the South Community Assembly to support the local farmers market, getting small scale highway improvements and seeing the construction of the crossings on Psalter Lane. He is now fighting to make sure Abbeydale Grange's grounds are protected as an open space for the community. Outside of politics Anders enjoys reading, photography, running, and genealogy.
Tel: 0114 303 0064               E-mail: anders.hanson@sheffield.gov.uk
Follow Anders on twitter: https://twitter.com/#!/andershanson
Surgeries: Please contact Anders on (0114) 303 0064 or by email to arrange a convenient time and location to discuss any local issues.  Anders also attends as many local community meetings and events as possible, and isalways happy to meet local residents at any of these.