Beauchief & Greenhill ward is in the south-west of Sheffield and contains Beauchief and Greenhill, as well as Chancet Wood, Low Edges, Batemoor, and parts of Lower Bradway.
In Beauchief & Greenhill local Liberal Democrats have been fighting to:
Protect Greenhill Library & Jordanthorpe Library from closure.
Campaign at unfair changes to bus services in our area.
Introduce a lorry ban on Abbey Lane and Bocking Lane.
Remove the unpopular bus-gate at Meadowhead.
Secure investment for Graves Tennis and Leisure Centre.
You can learn more about what local Lib Dems are doing Beauchief & Greenhill by clicking here.
Local Councillors
Beauchief & Greenhill has one Lib Dem councillor. Learn more about him below:
Name: Cllr Simon Clement-Jones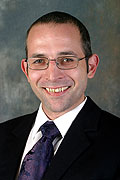 Years as councillor: 9                     Term Ends: May 2015
Bio: Simon moved to Sheffield in 1989 to study mechanical engineering at Sheffield Hallam University. He worked in the steelworks in Sheffield, Barnsley and Rotherham before starting a computer consultancy business in 1999. Simon was first elected as a local councillor in 2004 to represent Beauchief and Greenhill and has since been re-elected twice. Simon has been a Governor of Greenhill School for 7 years, a Trustee of Woodseats Advice Centre and a Champion of Chancet Wood Children's Home. Simon was the Council's Cabinet Member for Finance from 2008-2011 and in this position delivered the lowest ever council tax increase three years in the row including a historic council tax freeze in 2011.
Tel: 0114 249 1079               E-mail: simon.clement-jones@sheffield.gov.uk 
Surgeries:
1st Saturday of the month from 10.00 a.m. to 11.30 a.m. at Greenhill Library, Hemper Lane.
3rd Saturday of the month from 10.00 a.m. to 11.30 a.m. at Jordanthorpe Library, 15 Jordanthorpe Centre.
Last Friday in the month from 6.00 to 7.00 p.m. at Greenhill and Bradway Tenants' Meeting Room,Gresley Road.