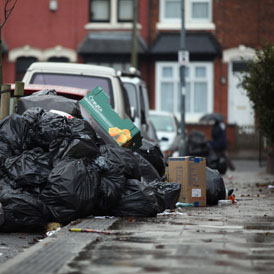 Labour councillors have decided to take away your weekly bin collections.
On top of this blow, Labour's Town Hall bosses have scrapped the free collection of your garden waste, and cut hours at local recycling centres. Their plan to cut recycling services and end weekly bin collections at the same time was always a recipe for disastor.
Despite spending £400,000 on a communications strategy, Labour councillors failed to pass on the most basic information – like which day bins were due to be collected! Meanwhile queues are backing down the road outside recycling centres and fly-tipping is on the increase in local parks.
A recent poll of local people found that 54% thought the new system wasn't working.
The real salt in the wound is the revelation that a Government Fund could have saved weekly collections – if only, Labour had swallowed their pride and bid for it.
Liberal Democrats now want the Council to have a genuine consultation on how Sheffielders want their waste collected. Labour's consultation last year was rubbished for its 'loaded' and 'leading' questions. We want to hear the real views of local people…
What do you think of Sheffield's bin collections? If you have any problems or complaints to report – please do get in touch!